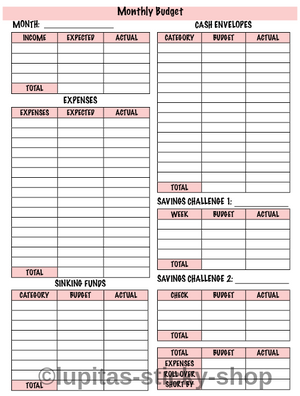 Lupita's-Sticky-Shop
Budget Sheet Complete (printable)
No Returns or reimbursement on printables
Printable Budget sheet, in this sheet you will find sections for:
Income
Expenses
Sinking Funds
cash Envelopes
Savings Challenge (2)
The headers are in color. 

Measurements: the sheet was created in size 7 x 9.25 But, printed in regular letter size paper. All you have to do is in your printing settings go to:
More settings > Scale > Fit to printable area
Disclaimer: Sheet was designed in size 7 x 9.25 but not sure if it can be printed in said size paper. I myself have not tried it.